Beautiful Beginnings perfectly packaged
Please scroll down to see all of our inclusions. After you've looked through our inclusions and services, scroll down to see available dates & pricing.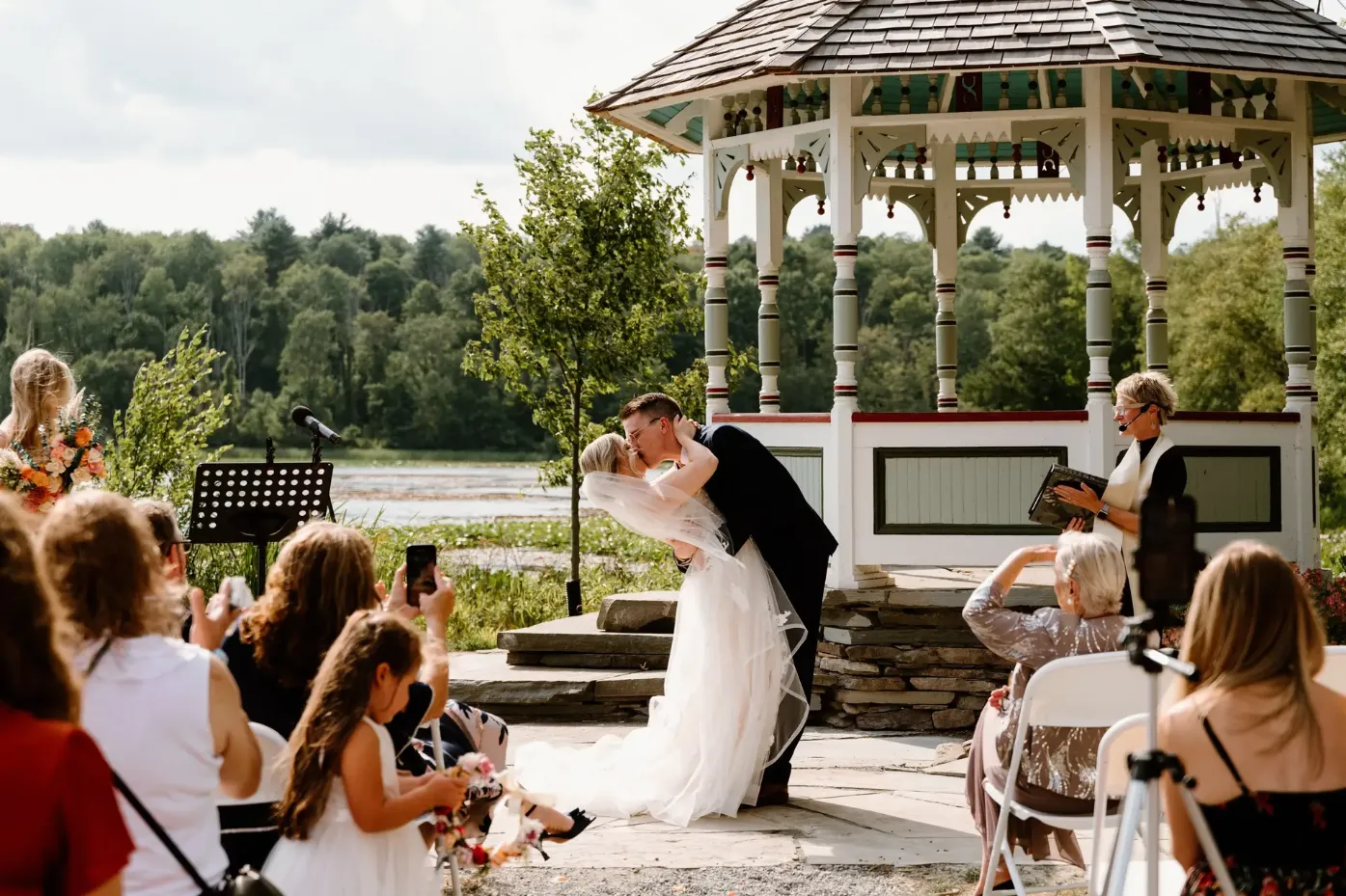 Event Management & Coordination
We offer event management, coordination, and consultation as part of our package, as we take great care with every wedding we host.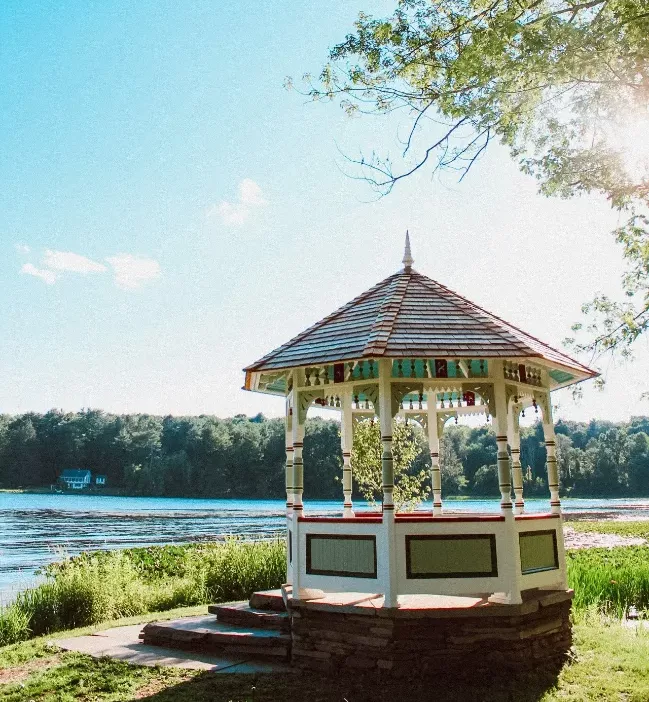 Lakeside Ceremony & Gazebo
Seats approx. 80 guests on benches with our historic gazebo and beautiful Lake Carey as a backdrop.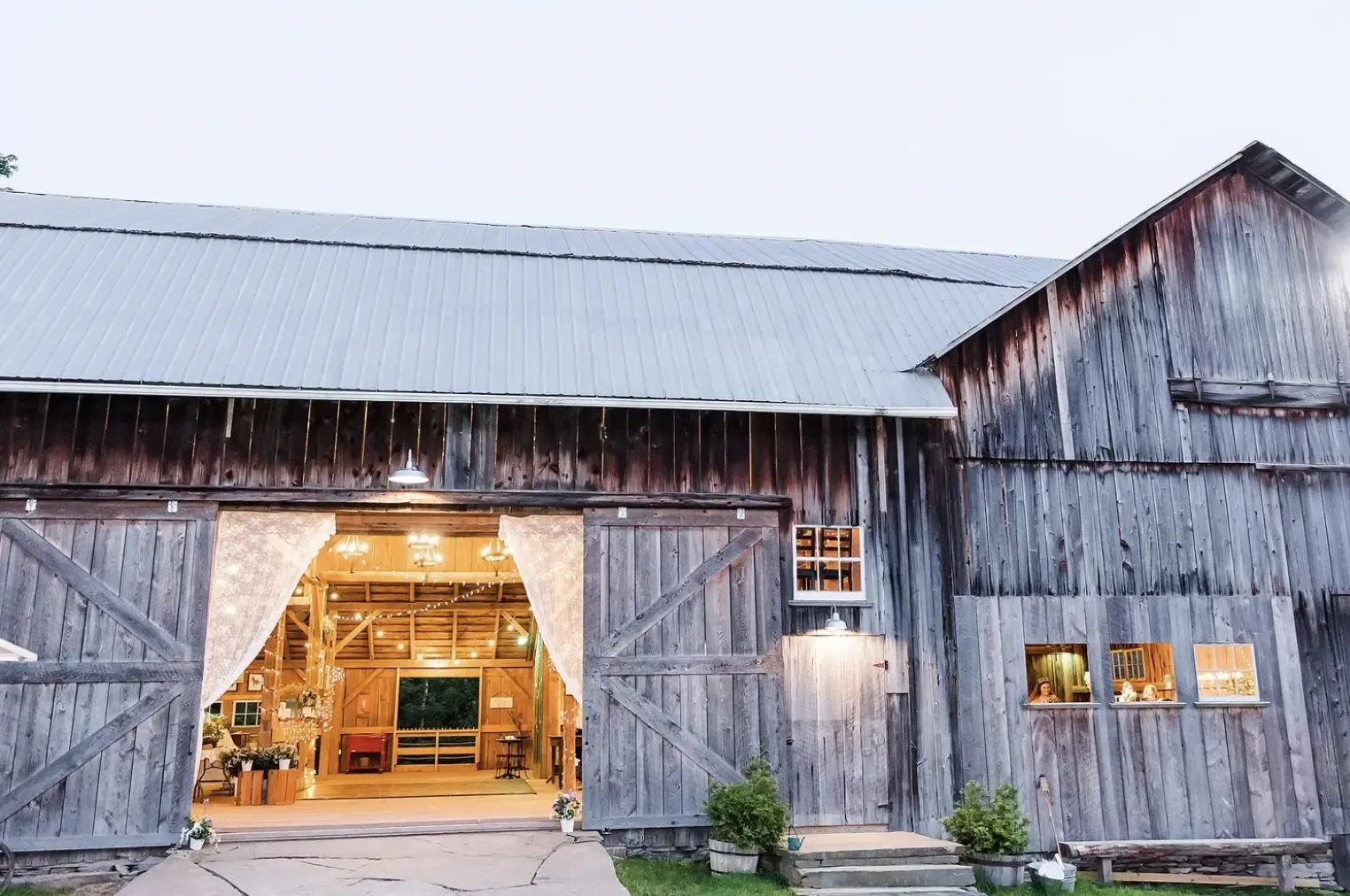 Old Carter Barn (Dinner & Reception Location/Rain Backup)
(120' x 40' with 42' ceilings) to host up to 158 guests for dinner & dancing under a barn roof with light pouring in from the wide open slider and double set of oversize barn doors. There is a permanent bar in this location, electricity throughout, and romantic hand-crafted chandeliers overhead. (No AC or heat inside the barn, although we include many fans and propane heaters as needed).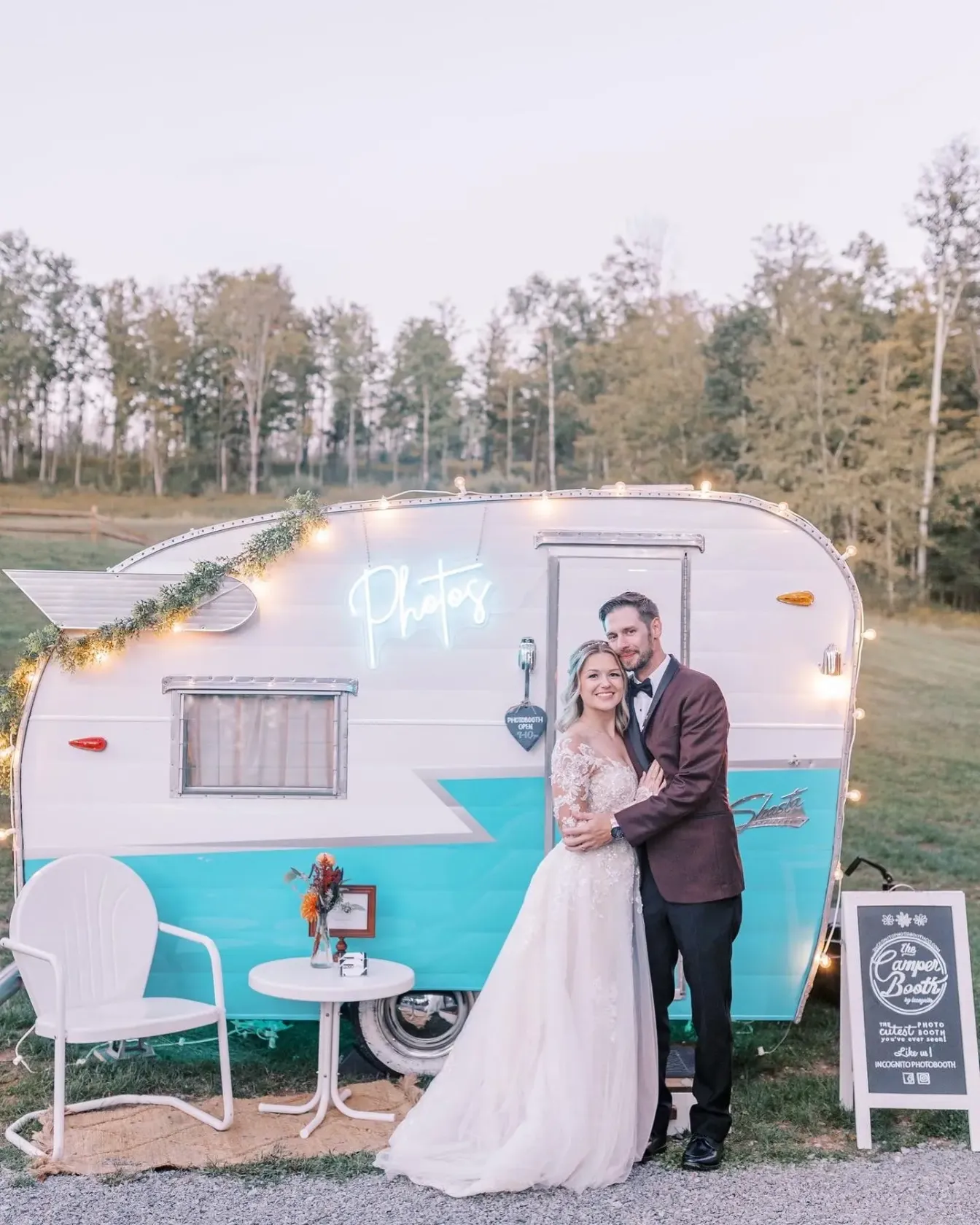 Outdoor Spaces
The open-air area in front of the barn provides the perfect spot for guests to hang out but feel part of the party. Our outdoor space includes a fire pit, Adirondack chairs, and cornhole. You're also welcome to bring food trucks.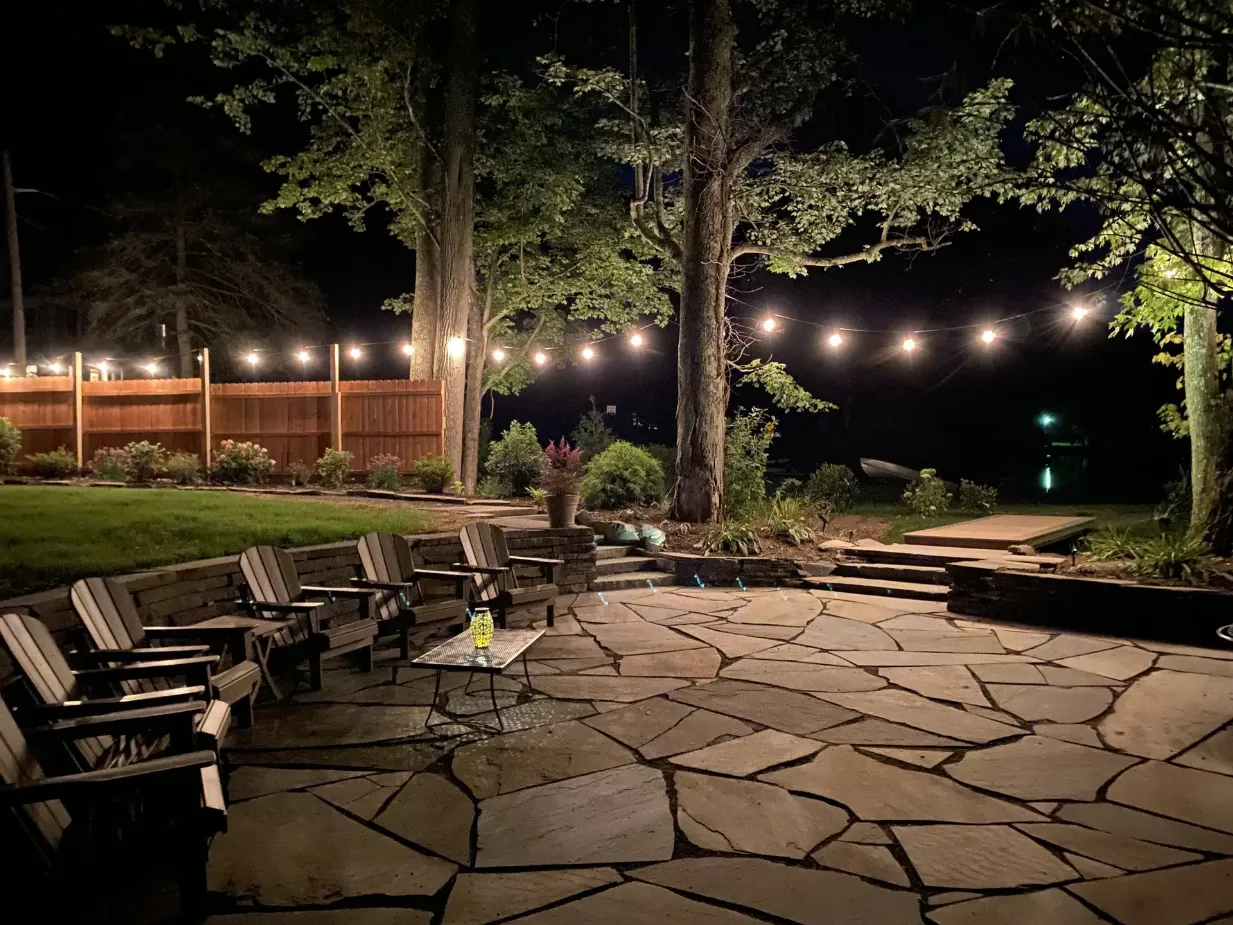 Lakeside Patio Cocktail Hour
Our tucked-away flagstone patio is perfect for a cocktail hour. It's conveniently located next to the ceremony location with a bar and casual outdoor seating.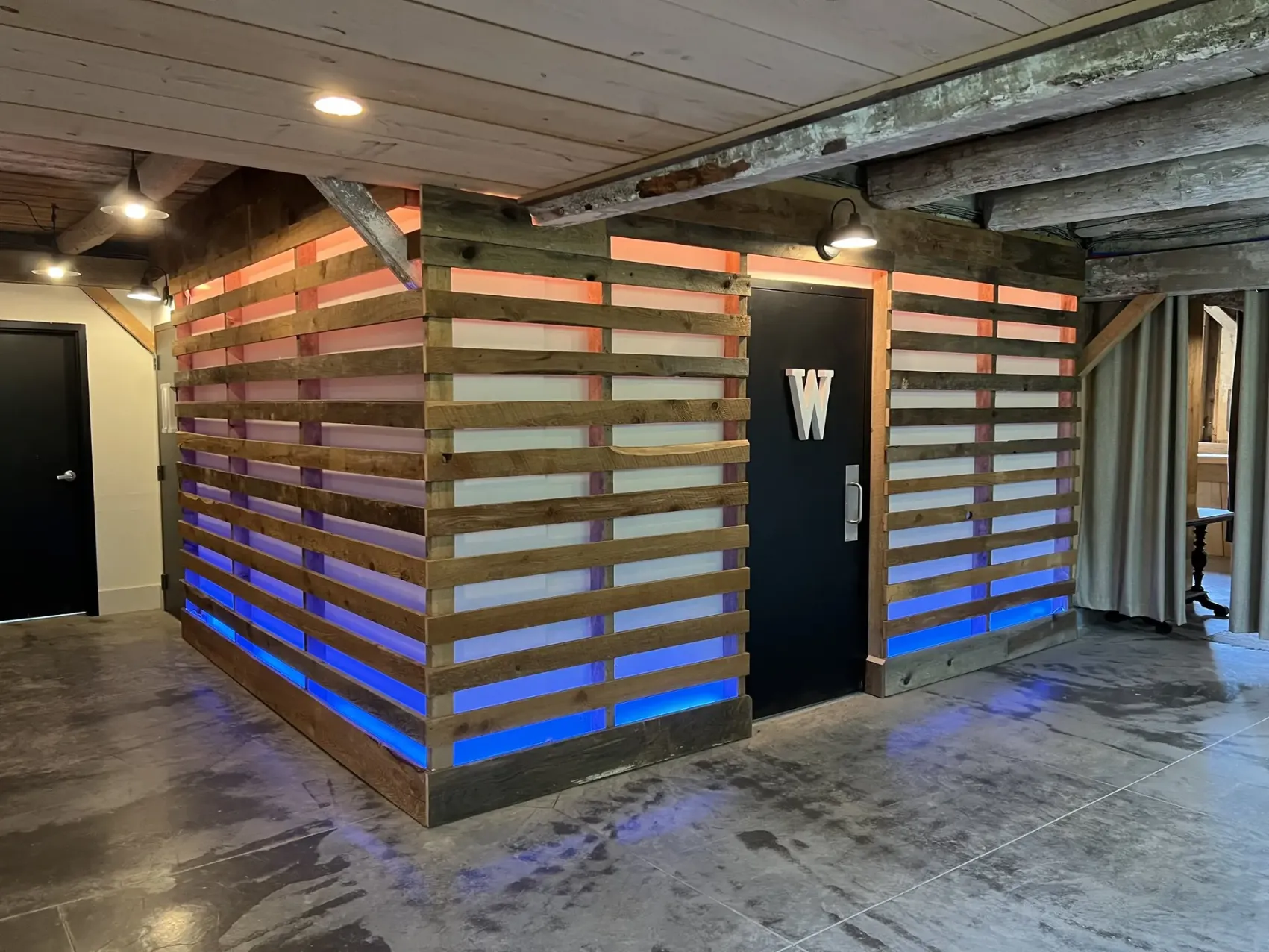 Four ADA-Compliant Restrooms
We have a private upstairs bathroom with a baby changing station, as well as men's and women's rooms on the lower level (2 toilets in each) and a private bathroom in the bridal party area. Our bathrooms are cleaned and stocked with toilet paper/paper towels throughout the evening. Like the rest of the barn, they are styled with vintage prints and barn decor.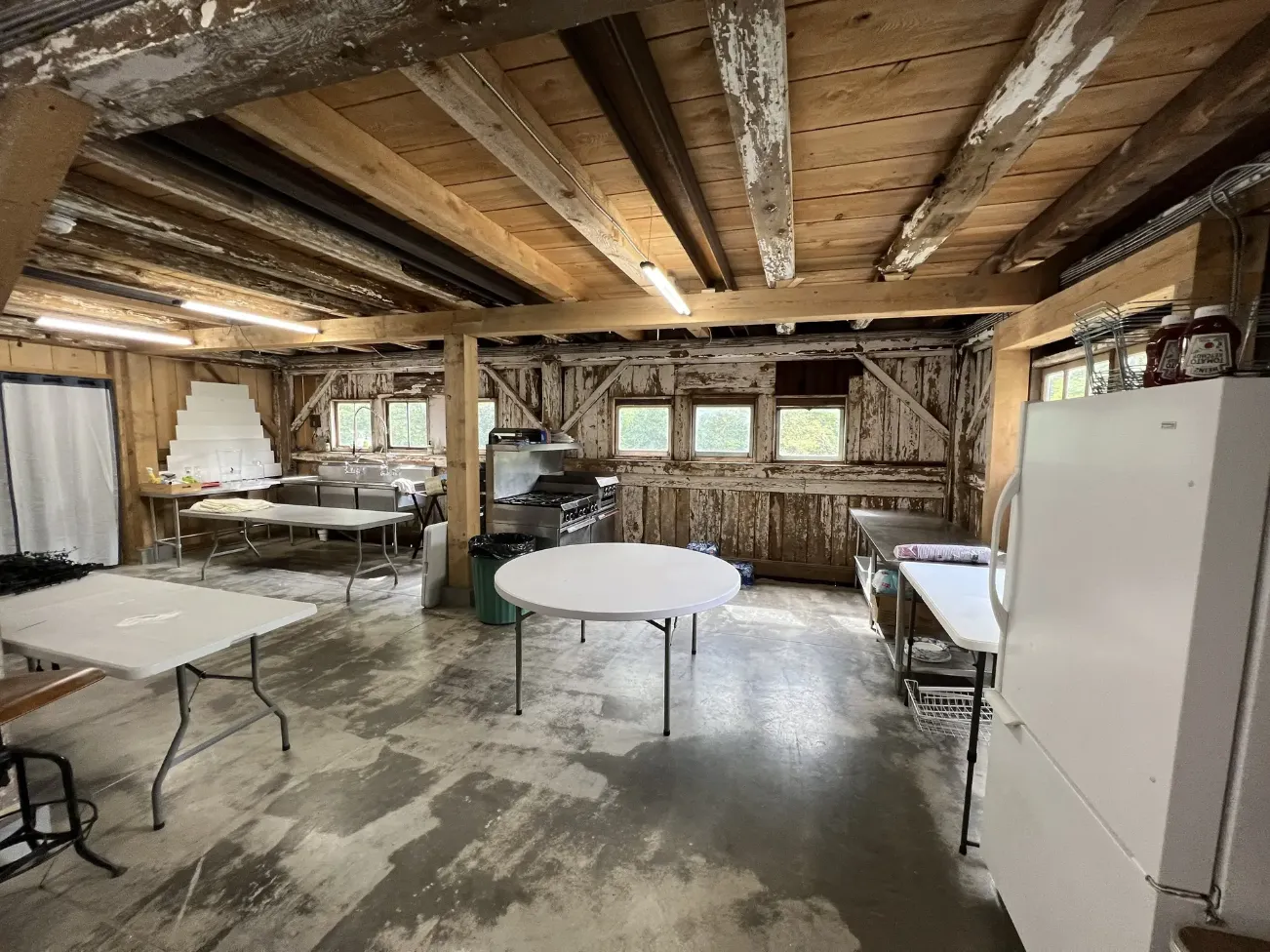 Caterer's Prep Area
Our prep area on the lower level has a 3-bay sink, refrigerator and many prep counters, and a commercial warming oven. This is an excellent spot for caterers and florists to use for set-up and service.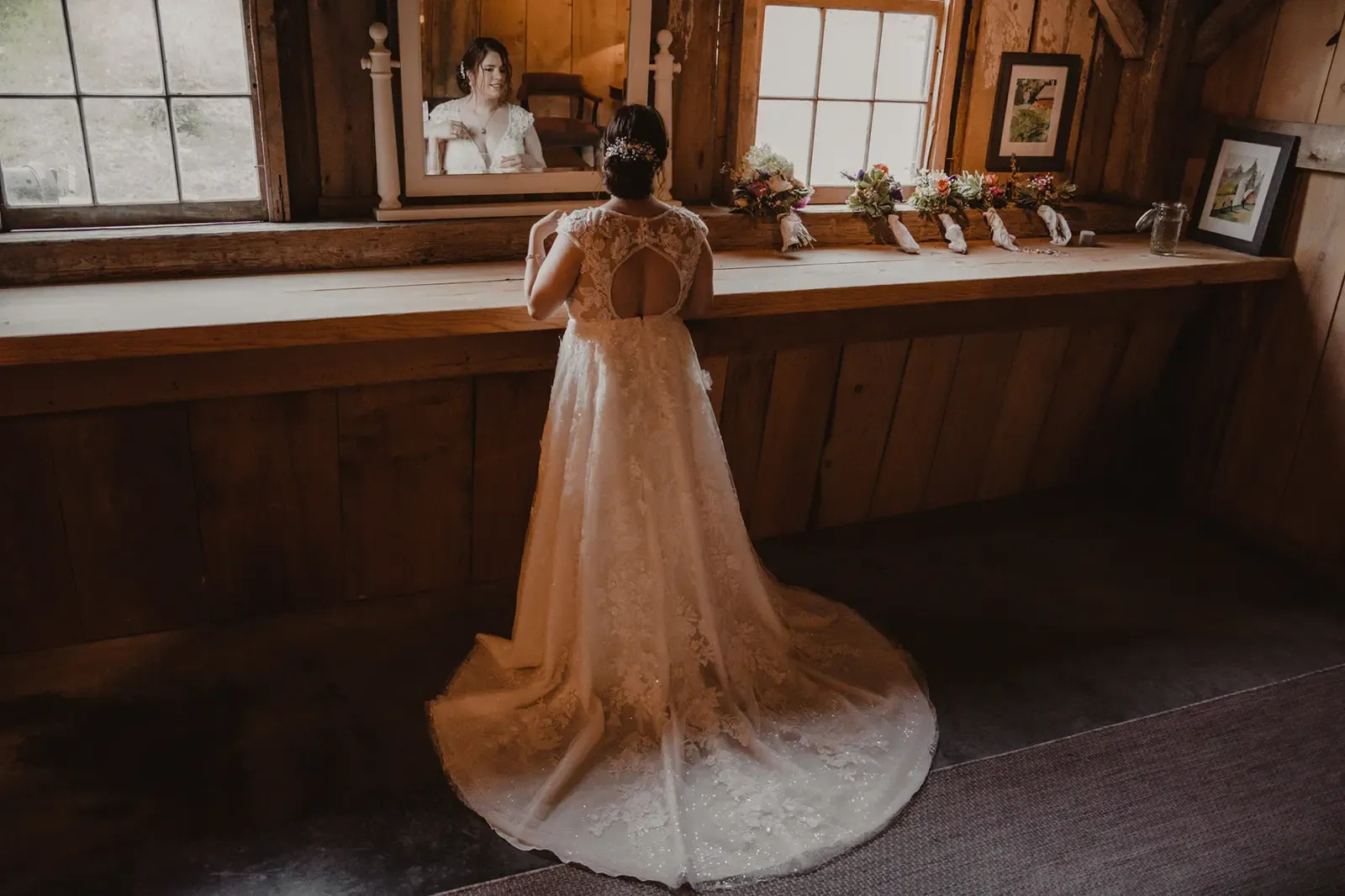 Separate Bridal Suite & Grooms Room (Ready Rooms)
Our beautiful getting-ready space has 4 stations for hair and make-up, a private bathroom and lounge, and a separate changing room for the groom.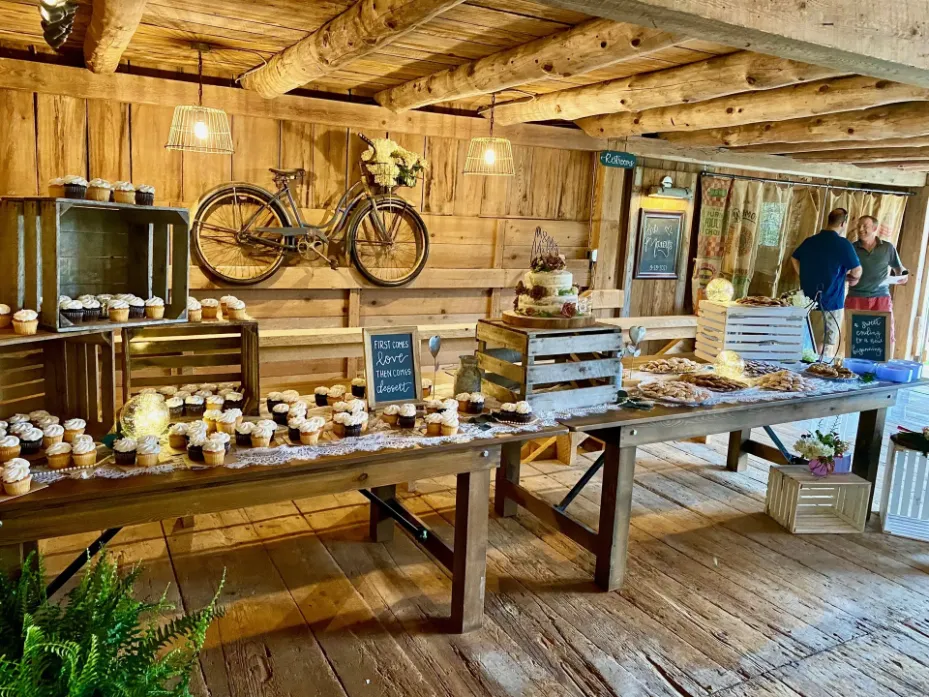 Tables & Chairs
The space will come pre-set to your vision with our 6 large wooden farm tables, 60" round tables, and vintage mismatched wooden chairs. We also offer vintage tables for use as a cake table, memorial table, dessert buffet, and many cafe tables, which can be arranged to your specification.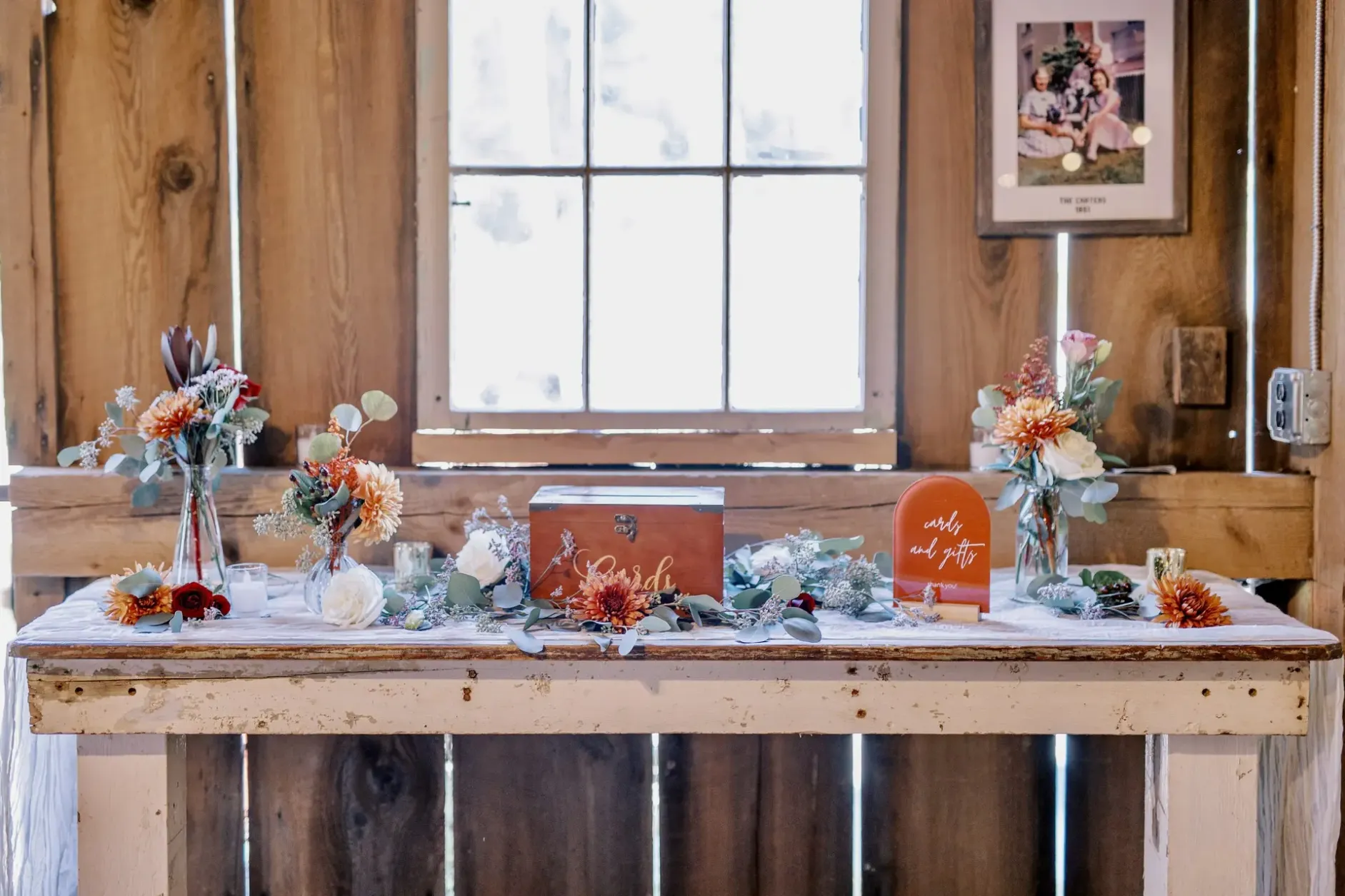 Decor Library
We have a rotating assortment of complimentary offerings to style your event, including faux candles, mason jars, table numbers, wooden centerpiece "cookies," and more. Each season we refresh our offering.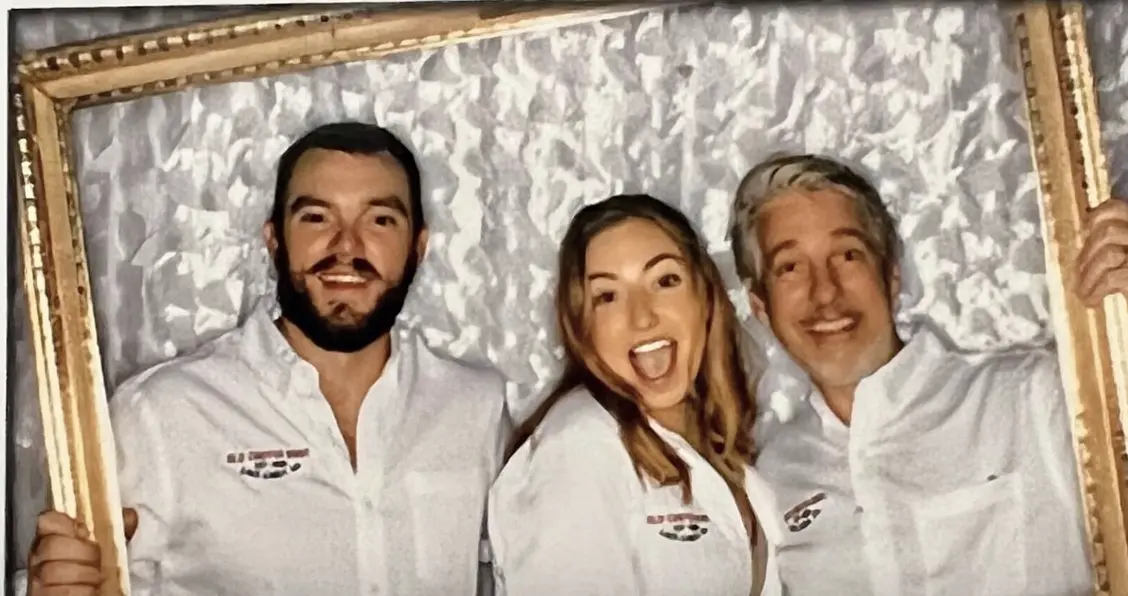 Venue Representative/On-Site Coordinator
We have two on-site coordinators who assist with your ceremony, reception, and make sure everything is going according to plan. We're also here to take care of last minute emergencies and unforeseen circumstances to make sure your day is seamless.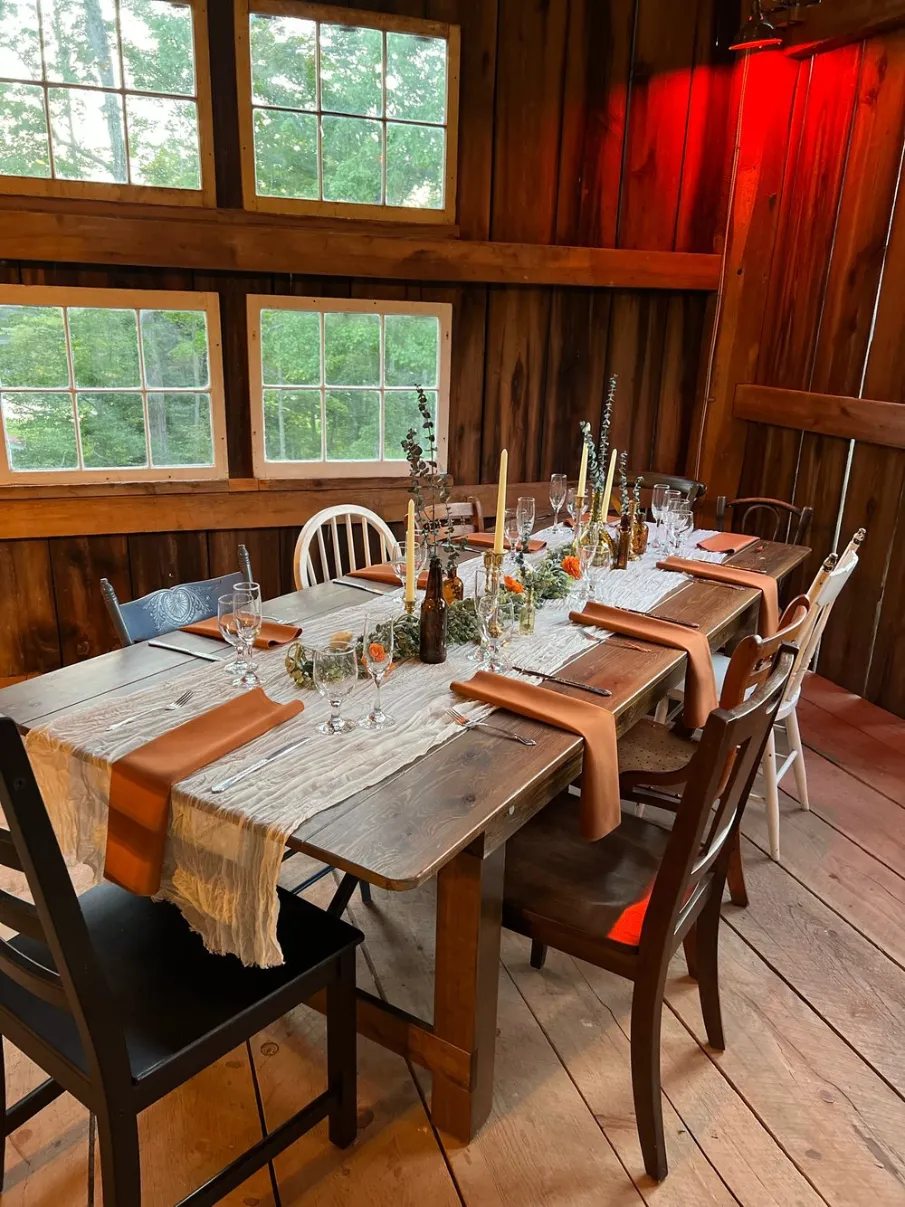 Set Up & Tear Down
We will supply linens (tablecloths and napkins, and runners of your choosing). The caterer usually sets the tables with plates, napkins, and silverware. You can supply the centerpieces or choose from our decoration library. We'll assist with set up and tear down.
Clean Space
We will ensure the venue is delivered, swept, rugs vacuumed, and surfaces wiped down before your arrival. We clean bathrooms and prepare the ceremony space on the morning of your event. At the end of your gathering, we wipe tables, put away our decor, collect whatever decorations you brought in, and do a general reset of the space. All other clean-up is the responsibility of you and your vendor partners.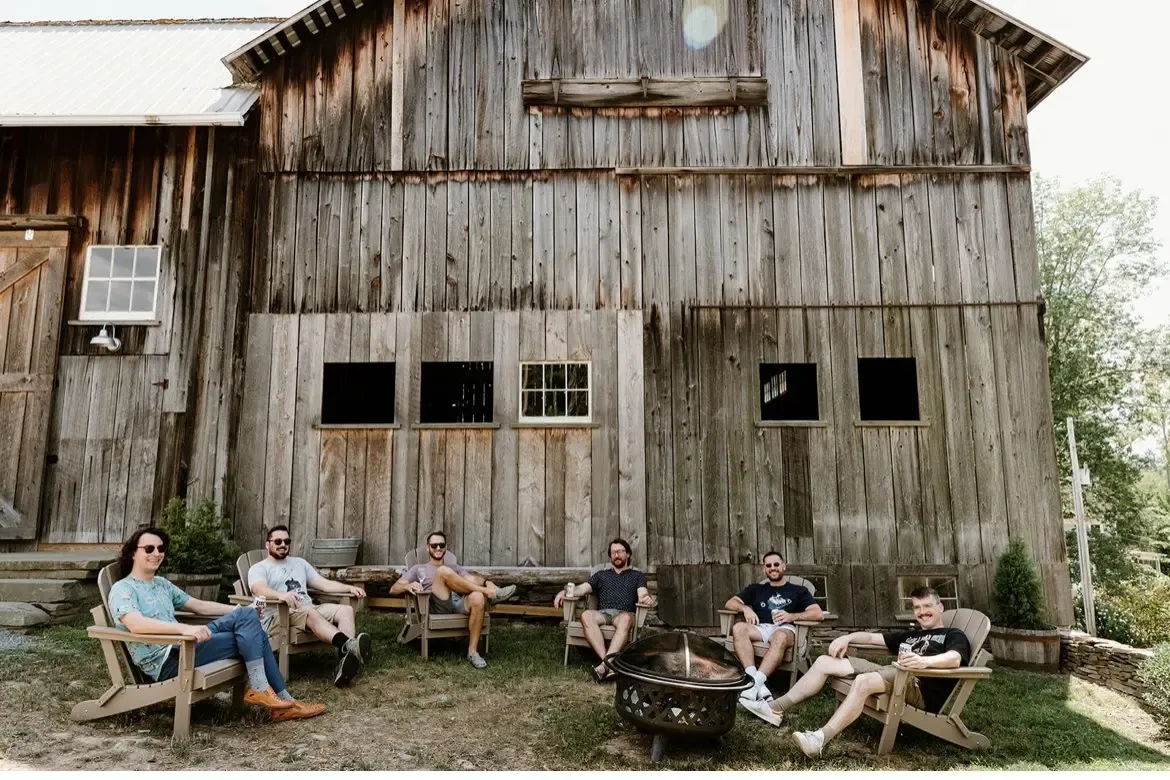 Bonfire Pit & Firewood
Our venue representative on site will build/maintain the fire, and we supply wood free of charge.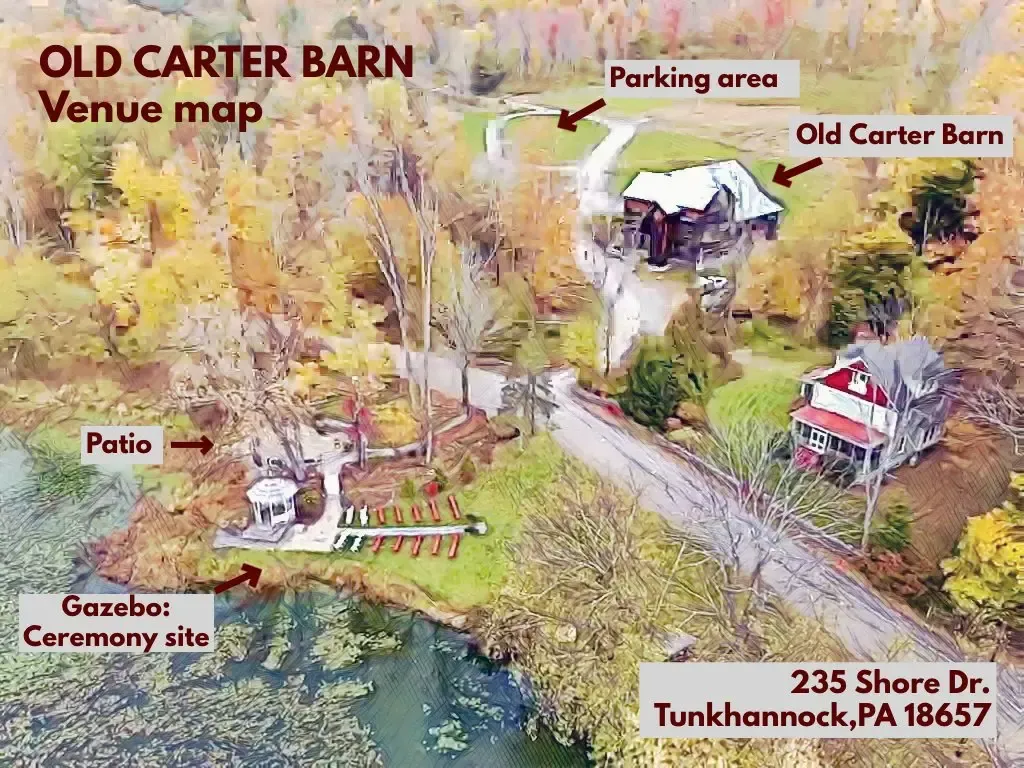 Parking for 100 Vehicles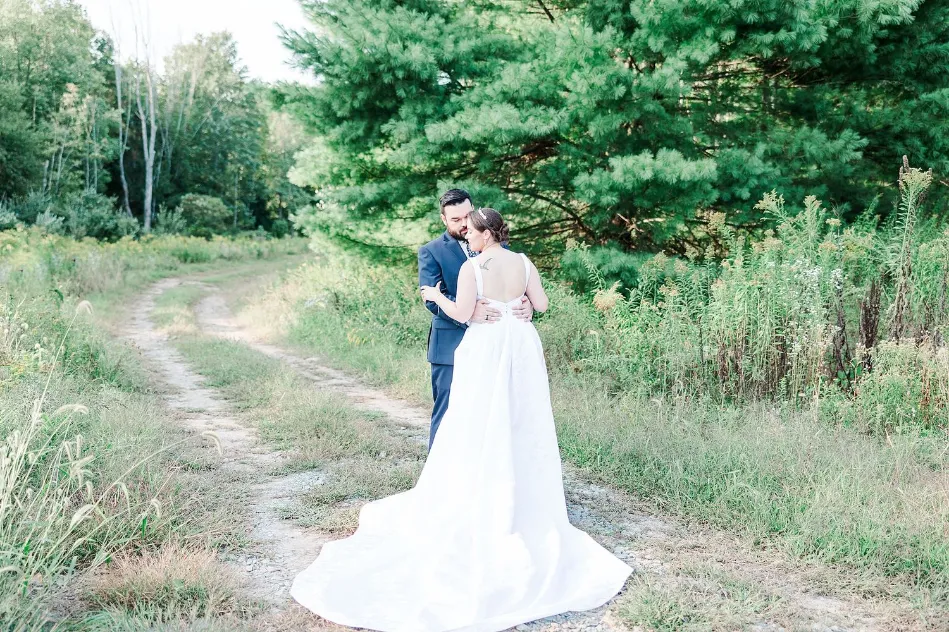 Online Planning Portal
A private curated portal with vendor recommendations, planning tools, schedules, floor plans and more to help guide you through your planning phase.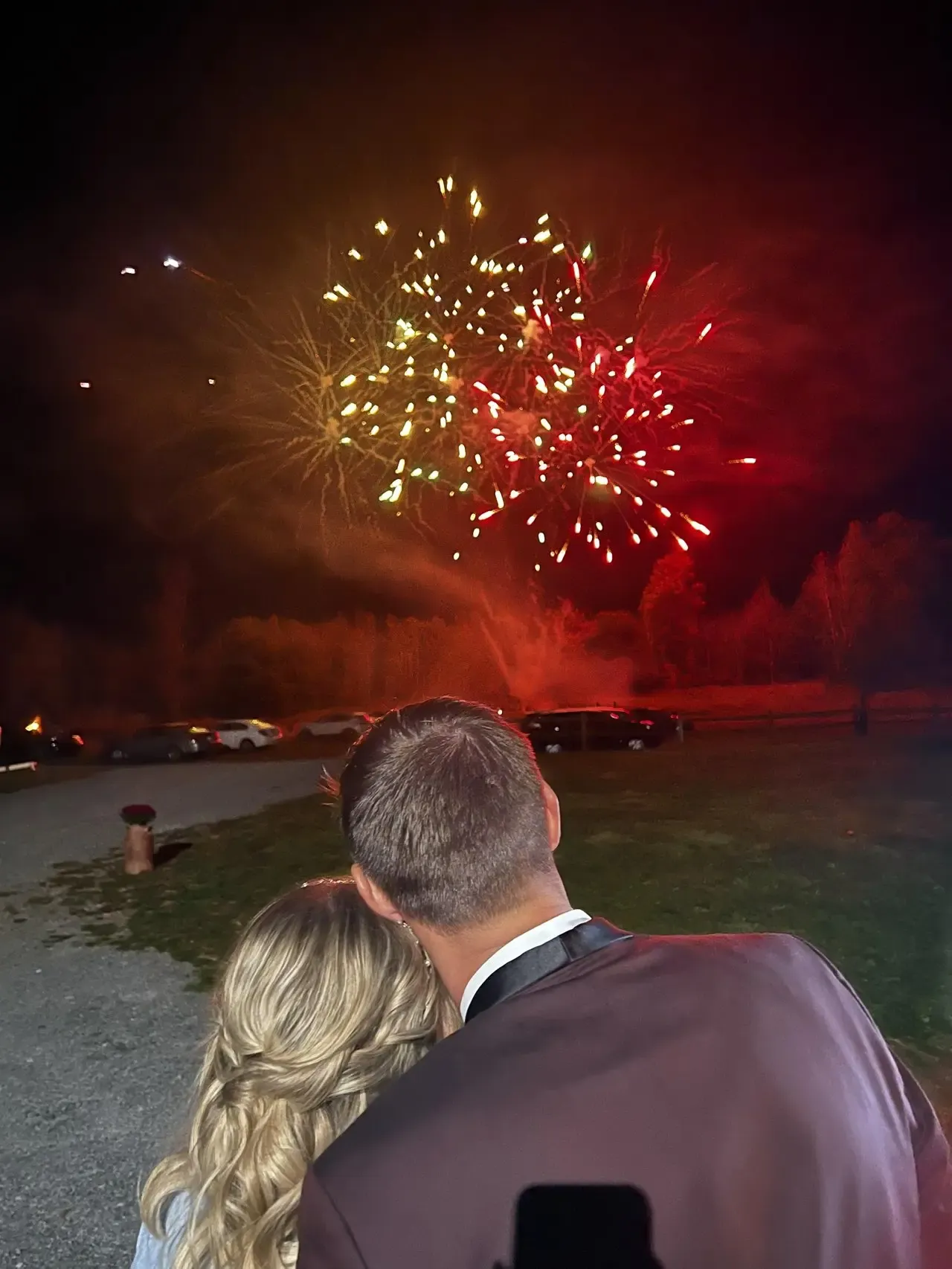 Event Insurance
We provide event insurance for your gathering in your name. Old Carter Barn is fully insured.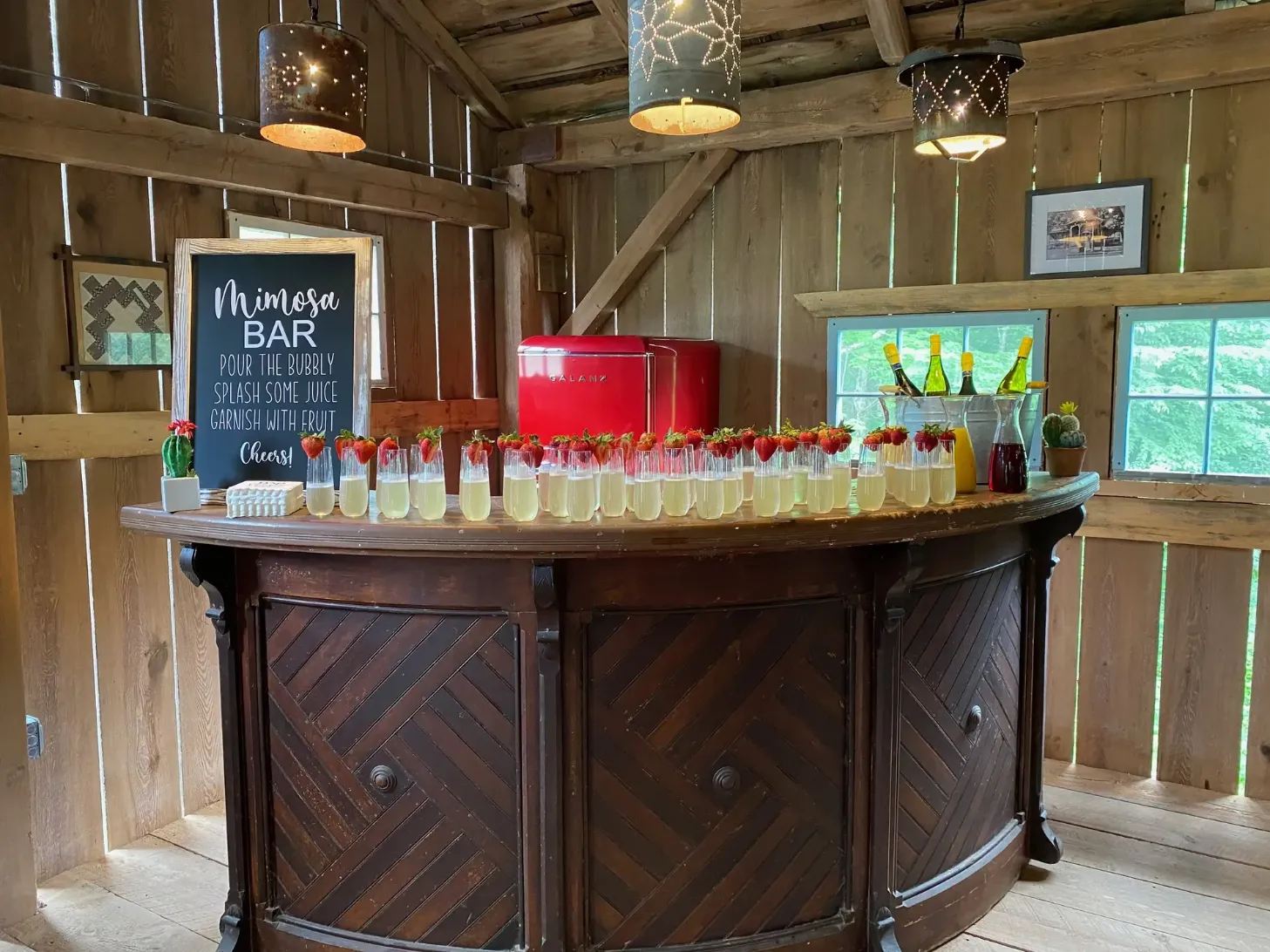 Ice, Trash & Recycling
Ice is included and will be provided for your event. Trash & Recycling is also included – although you and your caterer are responsible for bagging all garbage and storing all additional food.
Want to find out about pricing and available dates?